Last weekend we went to Minneapolis, MN to volunteer for the Liz Logelin Foundation and to see friends.
This was our 2nd year volunteering for the LLF and our 3rd trip to Minneapolis.
The flights, both there and back, were pretty painless. Nora was restless and loud before takeoff but settled in once we were able to access our carry on luggage and the toys and snacks they carried. One person commented that she had lungs like an opera singer but I thought she did great. Just a few screeches here & there.
We had a lot of fun while we were in Minneapolis. We arrived on Thursday and got ourselves settled into the hotel. While Nora napped & Travis watched TV, I got to spend a little time with Becky and Gina. Becky sent me & Gina on an errand to Home Depot. We failed at acquiring the necessary stakes but we had fun anyway. That night we had a nice dinner with Nancy at The Bulldog. Best tater tots ever!
After breakfast at the hotel on Friday morning, we spent almost 2 hours taking photos with Nancy! She took about 900 pictures and we changed Nora's outfit 6 times!
Nora had a blast running around, climbing stairs, playing with rocks, crawling up hills and running after Nancy's squeaker.
We grabbed some lunch at Potbelly (YUM!) and enjoyed their live music. Then things went a little haywire.
Only a few minutes after being back at the hotel for naptime, Nora & Travis were playing in the bedroom when Nora fell on the low windowsill and sliced her lower lip clear through. So. Much. Blood. Travis was calm & collected but I was a little loopy, insisting I change my shirt before I took my poor girl from him. Not my finest moment.
Nancy gave us info on a hospital and off we went to Fairview Southdale. We didn't wait too long before being taken to triage and not long after that before we were back in an exam room. The bleeding had stopped on it's own (good thing because Nora wouldn't let us put any pressure on it) and Nora was in good spirits. She had fun running around the waiting room but wasn't thrilled about being cooped up in the exam room. Thankfully we had a real room with a door, not just a curtain.
The doctor explained that Nora's lip would heal without stitches but he'd prefer to do the stitches so her lip would heal evenly. That
was our thought as well, so that's what we did.
After a dose of ketamine (!) they put three stitches in the left side of Nora's lower lip.
She didn't cry out in pain, but there was some wiggling & unhappiness involved. Travis said I talk when I'm nervous because I never shut up the whole time. Oops!
When Nora started to come around we went back to her room. Now, by come around, I do not mean she was awake & alert. Oh no! She was far from it. The was flying high. She couldn't stay still, kept saying Mama & Dada over and over, and was just all over the place. I now understand why Special K is a party drug.
Once Nora could drink from a straw, we were sent on our way. We grabbed some soft foods for Nora (low residue/soft food diet) and Tylenol from the nicest Target I've ever seen, then went back to the hotel. With the Celebration of Hope just an hour away, we weren't sure if we should leave Nora with the sitter or not. The doctor said she'd sleep a lot and we knew she was exhausted after her long morning & no nap, so we decided to go. Nancy's sister assured us they'd be fine and they were. Nora had a few pouches of food for dinner, they played and Nora went right to sleep and slept soundly all night.
Meanwhile, Travis & I went to the COH. We won one item in the silent auction and assisted with the live action portion since we missed our original volunteering duties. Matt and the other widows who spoke reminded us of exactly why we were there. I pray that neither Travis or I are ever in that position but it is nice to know that there is support out there for grieving families if we ever did.
Saturday morning we were up bright & early for the 5k. Travis handled the registration table while I was a roving helper/cranky Nora wrangler. Tylenol helped but I think she was still in pain and out of it from the drugs. She was definitely not herself.
It didn't help that everyone was eating muffins and bagels-things she could definitely not eat. Poor baby.
Once the 5k wrapped up, we finally got down to see Minnehaha Falls, which we missed last year because it was dark when we finished.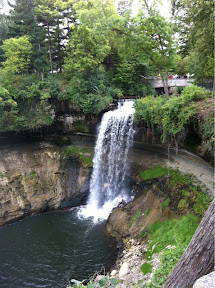 Then off to the 5-8 Club for lunch With Gina, Nancy, Cara and her girls. We went with fried mushrooms & pouches for Nora and bacon cheddar Juicy Lucy's for me & Travis.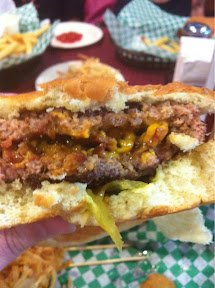 After naptime for me and Nora, Becky & Julia, Rachel, Adam & Susy and Gina came by the hotel to go through hand me downs from Gina's girls. We brought home an entire fall/winter wardrobe for Nora! The girls played with books & piles of clothes while we all sorted and talked. It was nice to have some downtime with them while the girls played. Afterwards, Gina joined us for dinner at Noodles which was SO YUMMY! I wish we had one. So simple but good! Then poor Gina had to help me with a massive blowout. Yikes, Nora! And thanks Gina!
Sunday before the flight home, we had hotel breakfast (brunch plans with the Tuttles was cancelled when poor Ryan got sick) and then Becky & Juj came back to play some more. The hotel was attached to Edinborough Park indoor playground so we let the girls run wild.
Juj talks about on her blog so I'll just link over there.
http://wonkerpillar.blogspot.com/2011/09/germs.html
It was so fun to see Nora & Julia play together. I hate that our friends are so far away.
Then off to the airport and home once again!
We're very lucky to have such great friends in and around The MN and we love visiting with them. I'll cross my fingers that we'll be back again next fall.
- Posted using BlogPress from my iPhone